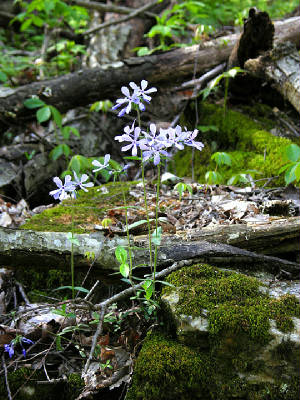 Next, Keith saw a Blue Racer dart down a hillside. Things were starting to look up, and we became excited about what we might find. I started flipping rocks on a hillside, always returning them to their original position, so as not to destroy the microhabitat underneath. After many rocks, I came to one perfect looking large flat rock. I lifted with all my might, and was stunned to see four Timber Rattlesnakes in the space that the rock had just rested! There were two adults and two yearlings, which all retreated into the crevices below them a few seconds later. I called to the others, but they were too late to see the serpents which had just escaped. Four timbers under one rock!

A little later, I spotted another Timber Rattlesnake coiled in the sun just outside its den. When we got close to it, it made for the shadows, just like the other ones did. The rattlesnakes really were being shy today!

The rest of the hike was pretty uneventful. Other than a few insects and a millipede, the only find was this Northern Slimy Salamander.

It was on to our next and last stop of the day, at a place that many of you know.
Pine Hills Ecological area consists of high bluffs, bordered by swampland, with a road that runs parallel to the bluffs. This is Snake Road, named because of the migration of snakes to and from the bluffs in the spring and fall. Many interesting and rare species can be found here.
The sun was falling fast, and the temperatures were following close behind. Adam and I decided to walk the road and see if we could find any cold blooded creatures in the cool late afternoon.
The first find at Pine Hills, Adam found this Dwarf American Toad under a log.
We continued along in hopes of seeing some snakes. I decided to check out an area near the swamp, and there I happened upon this little Western Cottonmouth. It was right by the edge of the water, and didn't even gape its mouth when I took pictures of it.